"Health is wealth" is a clichéd saying, but true nonetheless. A body that is not fit is in no position to work and fend for itself. Blame it on the luxurious lifestyle we lead, or the various junk foods that we eat, but obesity has become a glaring issue for urban dwellers today.
Healthy living includes a balanced mix of dieting and regular exercising. Hitting the gym is the easiest way to shed some weight and grow some muscle. Indoor fitness machines and spinning bikes dominate gyms and fitness centers. Moreover, the fact that you can use these machines at home as well makes them all the more alluring.
Read on to know more about the best spin bikes for the avid cyclists in the market today:
The two best spin bikes that we recommend.
Indoor bikes have been a part of the fitness market for a long time now. However, unlike yesteryears, you don't have to commute an hour to the gym just so you can exercise. Spin bikes offer a terrific cardio workout in the comfort of your home! Before we move on to discuss the details of the best spin bikes, we present our top two recommendations that have created quite a stir in the market.
1. Keiser m3i bike – best spin bike for home use.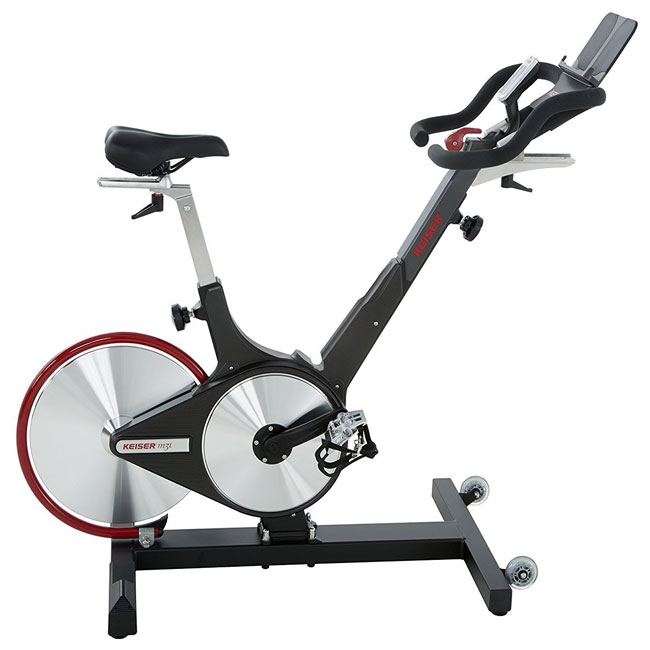 The Keiser M3i Bike is a high-end workout machine that's well worth the investment. The heavy-duty framework and powerful construction of the bike make it perfect for fitness freaks. Add to that the stunning design and robust functionality of the machine and you have got a keeper!
2. Sunny indoor bike – best spin bike for the money.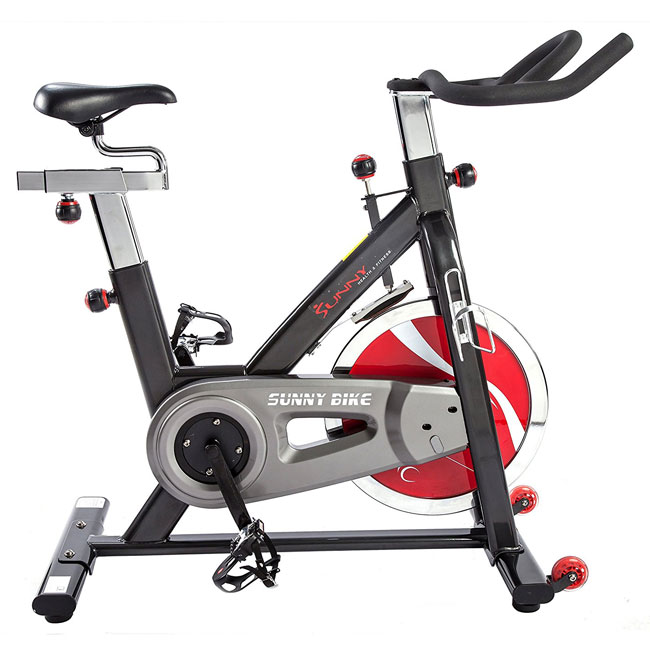 Sunny Indoor Bike is a smart choice for people who have a tight budget but want a spin bike that's tough and durable. The 49 lbs flywheel has the highest price to performance ratio, i.e. the machine provides optimum productivity even at a low cost.
The above two are the top brands and models we've reviewed and they are the ones that we think have outstanding features and versatility options. Each of them offers great resistance levels that can ensure your workout will never be boring when you're using it.
If you want something more then scroll down and check the complete list of spin bikes.
Best 5 spin bikes reviewed for you.
1. Keiser M3i Bike – Classic and Convenient.
Nicknamed as the Rolls-Royce of spin bikes and rightfully so, the Keiser M3i model is among the leading gym machines in the market today. With its revolutionary Eddy Current magnetic resistance system that can be pushed up to almost 24 levels and surprisingly silent operation, the bike rarely requires any maintenance.
The flywheel is strategically placed at the back of the bike thereby keeping away the sweat away from the framework. The plush leather seat, aft handlebars, and premium quality Shimano Combo pedals offer excellent support during a rigorous workout. The commercial quality construction and elegant minimalistic design add to the bike's appeal. Even the pre-programmed LCD display has a lot of high-tech features helping you monitor your performance accurately.
Product specifications:
Product weight: 85 pounds (or 38.56 kilos)
Product dimensions: 49 x 45 x 26 inches
Warranty period: Three years
Drive type: Magnetic
Maximum user weight support: 300 pounds
Pros:
Can support maximum weight of 300 pounds and hence suits almost anyone.
Adjustable seat, flexible handlebars, and 24-gear resistance.
Pre-set holes for safer seat adjustments that can be moved both vertically and horizontally.
Very quiet and durable.
Bluetooth connectivity, USB ports to connect the machine with your mobile phones.
Lightweight, weighing just 85 pounds.
Hence high on portability and easy to store.
A smart backlit computer console for recording your body stats and other workout information.
Cons:
Very expensive.
Features the lightest flywheel that experts believe is a disadvantage for amateur cyclists.
Final Verdict:
If money is not an issue, then the Keiser M3i is definitely an excellent option for your home-based gym. Robust, responsive, and very reliable, the Keiser spin bike is worth every penny. You can also check out the other models by Keiser, such as the M3iX model with distinctive X-bars for better performance.
2. Sunny Indoor Bike – Budget Friendly Spin Bike.
Looking for a spin bike that fits your fitness requirements and budget restrictions? The Sunny Health and Fitness Indoor Cycle Trainer is just the thing you need. A model launched by Proform, a brand famous for its top-notch cardio machines and gym trainers; it is compatible with both inexperienced users and professionals. The simple, ergonomic design guarantees a comfortable ride throughout the workout sessions. Also, the plush padded seats, flexible handlebars, and adjustable seats can be positioned to accommodate anyone irrespective of their height. The pedals come with toe cages for better grip, while the chain drive system allows smoother movement without putting a lot of effort. The compact, lightweight framework is supported by transport wheels adding to the portability of the bike. The bike is surprisingly silent and easy to maintenance.
Product specifications:
Product weight: 126 pounds.
Product dimensions: 41 x 35 x 10 inches.
Warranty period: Five years.
Drive type: Chain-Drive system.
Maximum user weight support: 275 lbs.
Pros:
Light 49 lbs flywheel for smoother movement and better control.
Adjustable resistance that can be controlled by top brakes.
Comfortable seats, ergonomic handlebars that can be adjusted both horizontally and vertically.
Additional transport wheels for better movability.
Very affordable.
Cons:
It lacks the magnetic resistance that helps you control the intensity of the workout
It also does not feature a computerized console that can track your body stats and performance.
Final Verdict:
The affordability of the bike is perhaps its biggest USP.
Sunny Indoors is ideal for users who want a compact-sized spin bike for their small apartment or room. It is simple in looks, sturdy, and inexpensive spin bike for their daily exercise.
For though the model lacks the shiny new high-tech features, it has all the necessary elements required for your workout. You can even check out the Pro series by Sunny Fitness in case you want something more professional and aggressive.
3. Phoenix 98623 Revolution Cycle Pro II Exercise Bike.
Phoenix is a brand well-known among fitness enthusiasts for its range of compact yet heavy-duty exercising equipment. The Phoenix 98623 spin bike combines the best of convenience and style offering customers high-end commercial exercising equipment that caters to all their cardio-vascular workout needs.
The robust construction of the bike makes the workout equivalent to riding a road bike. The chain and flywheel system helps regulate the resistance by a braking system. The two brake pads with emergency brake lever, which stops the flywheel and help the machine move backward and forward. The adjustable seats, ergonomic handlebars offer premium comfort during a workout. The framework lacks a digital console that would help you note the workout performance.
Product specifications:
Product weight: 113 pounds.
Product dimensions: 42 x 42 x 24 inches.
Warranty period: One year.
Maximum user weight capacity: 275 pounds.
Drive type: Chain Drive.
Pros:
The compact, yet powerful build of the machine provides ample stability and efficiency during aggressive exercising.
Emergency brake pads and lever system allows better control over the movement of the flywheel.
The heavy-duty design meets the commercial standards of quality giving users a taste of a professional gym machines at a low cost.
The bike is easy to store and can fit small apartments and gyms.
Very affordable.
Cons:
Does not have a magnetic resistance system, you cannot control the intensity of your workout.
The two brake pads cause more hassles than comfort as they often get out of alignment and have to be repeatedly adjusted.
It lacks a digital console and display monitor that displays the body stats and other crucial information.
Final verdict:
Phoenix 98623 lacks the high-tech features and glam of other established brands; however, it would be unfair to say that the bike is inefficient. The simple sturdy construction of the machine is best suited for inexperienced users. If you want an authentic and affordable bike, then this Phoenix model is the appropriate choice.
4. Diamondback Fitness 510lc.
Diamondback Spin Bike has all of the features that you'd in a Keiser model expect for the magnetic drive system. Moreover, the 510lc spin bike costs almost half the price of the M3i thereby compensating for the lack of magnetic resistance. The heavy-duty indoor cycle features a chain drive or flywheel system that supports a wide range of movements adding versatility to your otherwise monotonous workout. The machine comes with 16 levels of computer-controlled resistance allowing you to set the intensity of the cyclic movement.
The bike is eerily quiet for a machine running on the chain drive. Also, the aft handlebars and plush seats can be adjusted both vertically and horizontally giving you more freedom to move about comfortably. Moving on to the console, the LCD monitor perched up bike gives you accurate and real-time information on the body stats and performance output. You even get 14 automated workout regimes integrated into the system that you can follow.
Product specifications:
Product weight: 126 pounds
Product dimensions: 46 x 42 x 23 inches
Warranty period: Five years on framework and three years on electronics
Maximum user weight capacity: 300 pounds
Drive type: Chain Drive
Pros:
The adjustable seats support users between heights 5'2" to 6'5" that pretty much cover everyone!
The 16 levels of computerized resistance is easy to operate adding the much-needed oomph to your workout.
Flexible handlebars, sturdy pedals, and powerful flywheel design further boost the performance.
Surprisingly silent for a chain drive spin bike.
Cons:
Lacks the magnetic resistance that helps change the intensity of the workout faster.
The heavy-duty design is not easy to move about from place to place.
Final Verdict:
Diamondback 510lc is at the end of the day a powerful yet user-friendly spin bike that offers an excellent cardio workout in the comfort of your house. Also, the fact that the bike is reasonably charged only enhances the product's popularity among customers.
5. Spinner NXT.
The Spinner NXT as the name so aptly suggests is a true indoor bike manufactured by Star Trac, a company that popularized the concept of spin bikes in the first place. The commercial quality all-steel construction with zinc coating prevents the risk of rusting making the bike more durable and tough. The standard chain drive system of the machine offers ample resistance, though not magnetic, uses a pad that tightens around the flywheel. You can increase or decrease the resistance with a simple and easy-to-access knob. It is also pretty easy to customize and comes with a set of aft handlebars, adjustable seats, and SPD pedals. Even the elbow rests placed on the handlebars add to your comfort. The bike also comes with two bottle holders to help quench your thirst during a rigorous workout. The console though not digital, is simple and reliable.
Product specifications:
Product weight: 140 pounds.
Product dimensions: 57 x 60 x 20 inches.
Warranty period: Five years on the frame and two years on the electronics.
Maximum user weight capacity: 350 pounds.
Drive type: Chain drive.
Pros:
Steel construction with zinc coating protects the bike from moisture and rust.
An easy-to-reach knob that helps control the resistance.
User-friendly design with customizable handlebars, micro-adjustable seats, and SPD pedals.
Supports a wide user height capacity ranging from 4'10" to 6'.
Elbow rests, ergonomic pedals and plush leather seats make your ride comfortable.
Cons:
Lacks the control and efficiency of the magnetic resistance.
Doesn't have a digital computer-controlled console, hence you cannot track your body stats or workout performance.
Final verdict:
The Spinner NXT is an ideal choice for users who want a simple, authentic, and affordable spin bike that can be used indoors. The lack of high-tech features, though a drawback should not be a big problem for beginners.
The bottom line.
Spinning bikes have been so popular among customers that they have almost become synonymous with the generic term "indoor bikes". However, contrary to popular belief, not all indoor bikes are spin bikes. The specialized movement and resistance by a spin bike offer the perfect support system for your cardio workout. The products mentioned above are known for their durability and performance and although most of them are probably high-priced you can be rest assured that they will be at your home gym for a long time.
There are other products and brands out there that are equally powerful and deserving to be on the list. Consider the features and specifications carefully before you make a purchase.